What is the best fire extinguisher for car – Reviews & Top Picks 2017
I still recall watching the Aston Martin DB5 zip away in the 1964 James Bond flick 'Goldfinger' in a driveway movie theater, years ago and getting Goosebumps.
Ah…can anything ever replicate the exuberance of that beast on screen?
Not to forget the slick weaponry.
The oil sprayer, the smoke screen, the ejector seat, the tire slasher and of course the precautionary measure, the car fire extinguisher!
That was the first time I'd seen a fire extinguisher in a car by the way. And it taught me the fact that if James Bond's car needed one, then every car in the world probably did.
Turns out I wasn't wrong. A few years later, a cigarette lighter explosion ignited my friend's car out of the blue on a beautiful day.
My friend was caught without a fire extinguisher in the car when he most needed it. And the same thing could happen to anyone.
After realization sunk in, my first reaction was to buy a car fire extinguisher off the shelf that I could mount easily within arms reach, without having to store it in the trunk. The in-trunk summer temperatures here in Pheonix, Arizona, can be extreme and the last thing I needed was an extinguisher that would malfunction during an emergency.
So, I checked out those compact hand helders that weigh less than 5 lbs without knowing what type of fire repellent it contained or whether it would work for the type of fire that had just torched my friend's dashboard.
Thankfully, I casually mentioned about the purchase to my auto mechanic who then unleashed a barrage of technical gobbledygook about fire ratings and repellant types. I instantly knew that there's more to it than just picking up the smallest or the most compact one.
The Types of car fires & extinguishers
I spent the next seven days researching car fire extinguishers and discovered that there are more details to consider than what I'd ever imagined. I spoke to friends, colleagues, relatives, strangers and car owners on automobile forums who use car fire extinguishers or have used them in a real life scenario in the past.
Based on their recommendations, I shortlisted 10 models and then decided to do a little more research to find the best one for my car.
Fire extinguishers for cars are categorized according to the type of fires that they can be used for.  According to the NFPA, automobiles are at risk of four main types of fire hazards.
Class A: Class A fires are the lowest risk category and can be caused by combustible substances like wood, fabric, paper and refuse. All fire extinguishers can deal with Class A fires.
Class B: Class B fires are considered high risk and if not contained immediately, can cause substantial vehicle damage and can even be potentially fatal. These fires are caused due to combustible liquids (mainly fuel) petrol, gasoline, diesel, paint etc.
Class C: Class C fires are extremely high risk and can be caused by flammable gases like methane, propane, butane etc. In the United States, this is included in Class B.
Class E: Electrical fires are rated as Class E in many parts of the world including Europe, Australia and Asia. In the USA, these are included in the Class C designation.
Depending on the type of fire you are dealing with, here are some of the commonly used types of car fire extinguishers.
Water and foam: Water and foam extinguishers are the most basic models that can only deal with Class A fires. Water negates the heat while the foam cuts down on the oxygen supply. You absolutely cannot use these on a Class B fire because the foam can help the fire spread faster. These are not the best of choices for use in a car.
Carbon Dioxide: The good old CO2 fire extinguishers can be used with class B and C fires. Not with Class A though. Once again, not a great choice for a car.
Dry Chemical: These are the most commonly used portable fire extinguishers that are effective against Class A, B & C types of fires. The caveat though is that the dry chemical can cause significant damage to the engine and any electronic components under the hood. Err…that's an additional cost added to your bill. Great choice for external fires though.
Clean Agent: Clean Agent fire extinguishers which are also known as halogenated extinguishers are quite popular among car owners. My neighbor uses one and recently, got hands-on opportunity to put it to the test when his 924S went up in flames one afternoon. Put out the fire like a charm. Works well with class A and B fires.
My picks for my car, home & RV
Based on almost 7 days of research, the first model that I really liked is the First Alert AF400 Tundra. This is an aerosol fire extinguisher that works with Classes A & C fires (not class B L), is super-compact and is one of the only models that works like a spray can without the need to squeeze levers or deal with messy pins.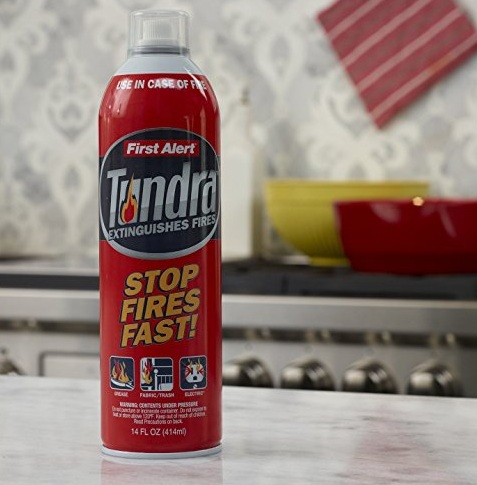 At 9.65 inches, it can be mounted easily inside the car and will fit right in to a cabinet or a drawer in your RV or your home. And to top it off, it weighs just 22 ounces.
The Tundra AF400 has a much wider spray area as compared to conventional actuators and the distance is approximately 4 feet which is more than sufficient while trying to put out a car fire.
One of the best features though, is that it uses a biodegradable formula that is not caustic and will not damage the electrical solders in your car. You can even use this on the inside. Washes right off!
I spoke to someone who had used the Tundra AF400 to put out a real fire in an apartment. Turns out it worked a lot better than what he'd expected and if it were not for the Tundra, the fire probably would have done a lot more damage than what eventually occurred.
It almost ticks all the right boxes.
Has a patent pending spray nozzle design which can prove to be a lifesaver
Sprays almost 3 times wider than a conventional actuator
Has a longer discharge time
Is only 9.65 inches and weighs just 22 ounces
Biodegradable non-caustic formula that works equally well against most household and automobile fires
If only it had a class B rating, which I consider extremely important in high temperatures, the Tundra AF400 would have occupied a prime spot inside my car. I still have one in my RV for an emergency though. And I have bought two of these for my kitchen.
My #1 pick – The Kidde 21005779 Pro 210
The best car fire extinguisher in my opinion is the Kidde 21005779 Pro 210 Fire Extinguisher. This is a commercial grade dry chemical model with a 210 (2A:10B:C) rating for Class A, B & C fires. It has an operating range of almost 15 feet with an operating pressure of 100 PSI making it perfect for use in a variety of situations including homes, cars, hotels and offices among others.
At 15.7 inches, it is not as compact as the Tundra AF400. But it easily can be mounted with a mounting bracket (sold separately) in the car. Each unit contains 4 pounds of Mono Aammonium phosphate and can be recharged after use and you can easily pick it up in an emergency situation.
Usage is equally simple and a simple press of the release knob will discharge the chemical instantly. The aluminum casing of the Kidde 21005779 Pro 210 is designed for use in corrosive environments in an industrial setup. This means that storing it in the trunk of a car on a sweltering summer day is not going to render it ineffective.
You'd want to invert and shake these occasionally to keep it primed for use though. Keep an eye on the pressure gauge on the unit and ensure that it's not depressurized.
I am not too keen on spraying dry chemical on the electrical components of my car or on the plush upholstery. But if it comes ever down to it, I'd still rely on the Kidde 210057779 Pro 210 than any other model.
And here are my reasons.
2A:10B:C rating
Weighs 4 pounds and can be mounted inside the car with a mounting bracket
Discharge range of almost 15 feet
13 second discharge time
Easy to use
Durable aluminum casing
Underwriters Laboratories (UL) tested and compatible
Bestseller on Amazon in the Car fire extinguisher category
The only reason why someone would want to look beyond this is due to the caustic nature of dry chemicals and the potential damage that they can do to the parts under the hood.
In a Class B & C fire situation, a sodium bicarbonate based fire extinguisher like the First Alert FIAFESA5 would be a much better choice. Sodium bicarbonate is one of the most harmless chemicals to be used to douse gasoline & electrical fires. It does not stick to the metal and is easy to wash off making it ideal for use under the hood.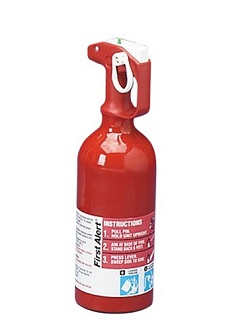 Coming from First Alert, you can be rest assured of the quality too. The FIAFESA5 is a very compact unit. It weighs just 3 lbs and is approximately 10.5 inches in length. The package includes an easy mounting bracket that lets you place the unit inside your car for quick access. And in case you don't want to mount it, this will fit right into your glove box.
It has a maximum storage temperature of 120 degrees. Out here, the temperatures can frequently exceed that range. But the FIAFESA5 comes highly recommended by two friends who have stored it for years in their car out in the desert and it has not depressurized yet. Oh, it comes with a tab that lets you check the pressure with the press of a button.
To sum it up,
Super compact 5-B:C rated extinguisher
Includes mounting brackets
At 10.5 inches and 3 lbs, fits into your glove box with ease
Easy pressure check with a push button
Integrated pressure gauge on the unit
The lack of a class A rating is probably the only factor that separates this from becoming one of the best fire extinguishers for cars. It still is a very good model. Only not useful if you are likely to have a Class A fire scenario.
Before I end this article, I'd also like to mention about the Kidde FA110 which is one of the most popular portable, multipurpose fire extinguishers in the market. For starters, this has been around for more than two decades. I spoke to people who'd bought this as early as 1999 and used it s recently as couple of years ago and it worked flawlessly.
It has a 1-A,10-B:C rating which makes it ideal for almost all types of fires (barring class D which typically occurs in a large industrial setup). It weighs just 3.5 pounds and is approximately 13.8 inches in length. You should be able to install this easily in your car or your home for a grab-and-go situation. It releases Monoammonium Phosphate with a pull of the pin.
Like other models from Kidde, it has a very durable corrosion-resistant aluminum casing with an integrated pressure gauge that will probably last for years. But you should get it inspected once a year to know that you are in business and that it won't fizzle out in an emergency.
The only nit that I could pick with the Kidde FA110 is that it's not rechargeable. If you are looking for a rechargeable unit with a Class A,B,C rating, check out my #1 pick, the Kidde 21005779 which only costs about $10 more than this one.
Otherwise, this is an equally good choice for one time use.
Multipurpose dry chemical fire extinguisher with a 1-A,10-B:C rating
Compact sized and lightweight
Proven performance over the years
Corrosion resistant aluminum casing
Integrated pressure gauge
6-year limited warranty
Irrespective of whether you stow it in the trunk or mount it in the car, a fire extinguisher is an inexpensive purchase that can save you thousands of dollars in repairs and even save your life and that of your loved ones in an emergency.
You'd rather have it and not need it than the other way round. I hope you enjoyed reading through this article and this helps you pick the best fire extinguisher for your car.